Announcements
---
The COBRAS Board voted to officially change the name of the club to COBRAS, dropping the Colorado Bicycle Racing Association name. We are now in the process of changing our registrations and printed material. You may view the revised COBRAS bylaws by clicking HERE.
---
The 2016 KHMTT Registration is now open! COBRAS members who plan on being race volunteers should not register until you are provided with a coupon code to allow you to register at no cost, however you are welcome to pass the news to your friends and neighbors that registration is open. We have blocked out start times for volunteers that will be assigned once we have the volunteer schedule complete for early and late race volunteers.
---
KHMTT Poster and Flyer! We have prepared a poster and a flyer to advertise the KHMTT. The Flyer is designed to be used as something you can pass out to cycling friends. Barbara K. is taking a stack and having them distributed at the upcoming Chilly Cheeks Dua event in Cherry Creek this month. The poster is designed to be posted on a bulletin board at your neighborhood gym or bike shop. Members are encouraged to download the flyer and poster, print some copies and help us advertise the KHMTT by giving out the flyers or posting the poster at your local shop or gym. To download the flyer, click here. To download the poster, click here.
---
Annual Colorado Start Park Passes being offered with KHMTT registration. Anyone who registers for the 2016 KHMTT may purchase an Annual Colorado Start Park Pass which includes the CCWB sticker for the discounted price of $58.00. This is a reduction of price from the normal and the senior discounted price available from the park.
---
COBRAS Present Donation to the Cancer Fitness Institute. On Saturday, Aug. 1st the COBRAS rode to the offices of the Cancer Fitness Institute and Greg Kelton ,President o the COBRAS presented Ashley Perillo with a check for $2,500 in me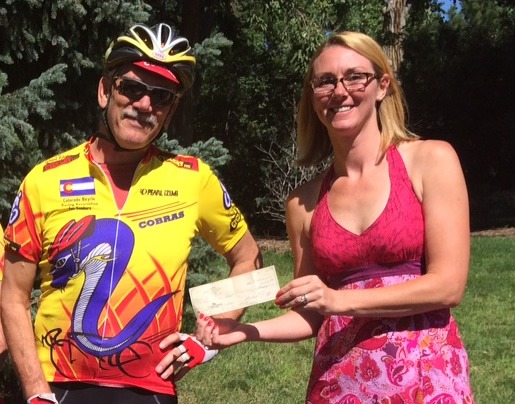 mory of Karen Hornbostel. The organization was founded by Karen Hornbostel, an exercise physiologist and champion cyclist diagnosed with breast cancer in 1993 at the peak of her cycling career. When she asked if she could exercise during treatment, her doctor did not know, because at that time the medical community advised cancer patients to rest to regain their strength. Karen decided that she was going to continue to exercise, and over the next 13 years made it her life's passion to help other cancer survivors regain strength and confidence through exercise. The COBRAS are honored to be able to help support her legacy.
---
Come join us on a Saturday ride! Our club rides are open to members and non-members as well. You can receive notifications about our rides by signing up for our weekly Club Ride Notices.
---
The COBRAS Team Store is open! Many items are on sale! You can view and order all items we have in stock! We now accept PayPal or you can pay with any major credit card, and we ship!
---
The COBRAS are accepting new members! Now is a great time to join, keep active on the bike with our weekly rides! Racing and non Racing members welcomed! It's easy and you can join online today! Just click on JOIN COBRAS for more information.
---
A NEW printable version of the COBRAS flyer is available at COBRAS Flyer. Print out a few and take to your local bike shop, gym, Starbucks or give to anyone who may be interested in joining COBRAS!
---
Lost or forgot the COBRAS Member only password? You can get it instantly using the Password Request Form.
---
Is your information up to date? The COBRAS are automating our membership list and you can find it here. Take a look and be sure your information is up to date. If not, you can correct it here.
---
Help us make this web site better! Take the survey and give us your feedback! Go to the survey. Thank you!
---
Follow us on Facebook! You can find it at COBRAS Facebook page. Give us both a Like and Follow Us! Also be sure to invite all your cycling friends to like/follow our Facebook page.
---
Looking for a mid-week ride? We have posted our team ride routes to the web site that you can download and follow. Go to Route Collection and enjoy!
---
We need photos! Please send any COBRAS team photos to moc.g1455330111nilcy1455330111csarb1455330111oc@so1455330111tohp1455330111
---
Upcoming Events
---
---
Sponsors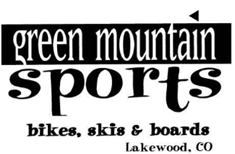 Many thanks to GREEN MOUNTAIN SPORTS 12364 West Alameda Parkway Lakewood, CO 80228 303-987-8758 for their sponsorship.
Please visit their website: Green Mountain Sports
---

The COBRAS are proud to announce our new sponsor Rudy Project! For more information, click here!