---
Sponsor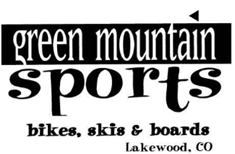 Many thanks to GREEN MOUNTAIN SPORTS 12364 West Alameda Parkway Lakewood, CO 80228 303-987-8758 for their sponsorship.
Please visit their website: Green Mountain Sports
Announcements
---
The final results from the 2015 Cobras Championship Series have been posted.
---
More photos for the Deer Creek Hill Climb have been posted! Thanks Tom D. for being our club photographer for the event! Photos can be found here.
---
Lost or forgot the COBRAS Member only password? You can get it instantly using the Password Request Form.
---
The latest board meeting minutes have been posted. You can find them here.
---
Is your information up to date?  The COBRAS are automating our membership list and you can find it here.  Take a look and be sure your information is up to date. If not, you can correct it here.
---
The photos from the 2014 Road Clean Up Day have been posted!
---
The COBRAS are accepting new members! Now is a great time to join, keep active on the bike with our weekly rides!  Racing and non Racing members welcomed! Just click on JOIN COBRAS for more information.
---
Help us make this web site better! Take the survey and give us your feedback! Go to the survey. Thank you!
---
Follow us on Facebook!  You can find it at COBRAS Facebook page. Give us both a Like and Follow Us! Also be sure to invite all your cycling friends to like/follow our Facebook page.
---
Need to change your email address or other contact information? You can do it on the COBRAS website in one easy step, click here and fill out the simple form!
---
A printable version of the COBRAS flyer is available at COBRAS Flyer. Print out a few and take to your local bike shop, gym, Starbucks or give to anyone who may be interested in joining COBRAS!
---
Looking for a mid-week ride?  We have posted our team ride routes to the web site that you can download and follow. Go to Route Collection and enjoy!
---
We need photos! Please send any COBRAS team photos to moc.g1414753838nilcy1414753838csarb1414753838oc@so1414753838tohp1414753838
---
Share