---
Sponsor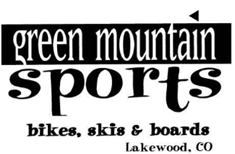 Many thanks to GREEN MOUNTAIN SPORTS 12364 West Alameda Parkway Lakewood, CO 80228 303-987-8758 for their sponsorship.
Please visit their website: Green Mountain Sports
Announcements
---
Board Meeting! The COBRAS Board Meeting will be held at the home of Greg Kelton 6560 West Alamo Drive Littleton on Monday July 20th at 6:30 PM to 8:45 PM. All members are welcome!
---
Come join us on a Saturday ride!  Our club rides are open to members and non-members as well. You can receive notifications about our rides by signing up for our weekly Club Ride Notices.
---
The COBRAS Team Store is open!  Many items are on sale!  You can view and order all items we have in stock! We now accept PayPal or you can pay with any major credit card, and we ship!
---
The COBRAS are accepting new members! Now is a great time to join, keep active on the bike with our weekly rides!  Racing and non Racing members welcomed! It's easy and you can join online today! Just click on JOIN COBRAS for more information.
---
A NEW printable version of the COBRAS flyer is available at COBRAS Flyer. Print out a few and take to your local bike shop, gym, Starbucks or give to anyone who may be interested in joining COBRAS!
---
Lost or forgot the COBRAS Member only password? You can get it instantly using the Password Request Form.
---
Is your information up to date?  The COBRAS are automating our membership list and you can find it here.  Take a look and be sure your information is up to date. If not, you can correct it here.
---
Help us make this web site better! Take the survey and give us your feedback! Go to the survey. Thank you!
---
Follow us on Facebook!  You can find it at COBRAS Facebook page. Give us both a Like and Follow Us! Also be sure to invite all your cycling friends to like/follow our Facebook page.
---
Looking for a mid-week ride?  We have posted our team ride routes to the web site that you can download and follow. Go to Route Collection and enjoy!
---
We need photos! Please send any COBRAS team photos to moc.g1435883414nilcy1435883414csarb1435883414oc@so1435883414tohp1435883414
---