Announcements
---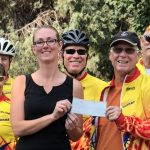 This year the COBRAS/KHMTT donated $1,400.00 to the Cancer Fitness Institute in memory of Karen Hornbostel. The amount of this year's donation will provide roughly 8 CancerFit Scholarships, which allows the participant to enroll in the 8-week class free of charge. Our continued support of the CancerFit program is very much appreciated by CFI. For more information about CFI, visit the KHMTT.com website. https://khmtt.com/cancer-fitness-institute/
---
COBRAS/KHMTT present BRAC with a check for $7,000.00 to support bicycle racing in Colorado. Larry Potter, the treasure of the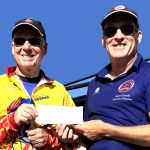 COBRAS bicycle racing club presented Shawn Farrell, the Executive Director of the Bicycle Racing Association of Colorado (the local USAC association) with a check from the proceeds of this year's KHMTT.
---
Mid Week Show and Go Rides are BACK!  Greg is back in the saddle, and leading this great weekly ride! Due to the work occurring at Chatfield Reservoir, the ride now meets at Cherry Creek High School parking at the SW corner of Union AV and Dayton ST just outside Cherry Creek State Park. Show and Go means make your own decision about weather conditions. The ride will leave at 5:30 pm sharp to finish around Sunset.
---
The COBRAS are accepting new members!  Now is a great time to join the COBRAS, keep active on the bike with our weekly rides!  Racing and non Racing members welcomed! It's easy and you can join online today! Just click on JOIN COBRAS for more information.
---
COBRAS on Strava! COBRAS president David H. has created a Strava group for the COBRAS. Several members have joined in the past month. Your Strava stats can be downloaded and compared to our teammates in COBRAS. Sign up here and have some fun.
---
Come join us on a Saturday ride!  Our club rides are open to members and non-members as well. You can receive notifications about our rides by signing up for our weekly Club Ride Notices.
---
Lost or forgot the COBRAS Member only password? You can get it instantly using the Password Request Form.
---
Is your information up to date?  The COBRAS are automating our membership list and you can find it here.  Take a look and be sure your information is up to date. If not, you can correct it here.
---
Follow us on Facebook!  You can find it at COBRAS Facebook page. Give us both a Like and Follow Us! Also be sure to invite all your cycling friends to like/follow our Facebook page.
---
Looking for a mid-week ride?  We have posted our team ride routes to the web site that you can download and follow. Go to Route Collection and enjoy!
---
We need photos! Please send any COBRAS team photos to [email protected]
---
---
Sponsors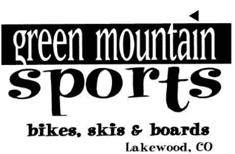 Many thanks to GREEN MOUNTAIN SPORTS 12364 West Alameda Parkway Lakewood, CO 80228 303-987-8758 for their sponsorship.
Please visit their website: Green Mountain Sports
---

The COBRAS are proud to announce our new sponsor Rudy Project! For more information, click here!